Products
The Beverly Hills Organizer's Home Organizing Bible: A Pro's Answers to Your Organizing Prayers
At last—an easy-to-follow, step-by-step visual guide to organizing your home room by room and piece by piece. Most organizing books are too complicated to actually use—you have to read them cover-to-cover, search for the information you need, then try to remember it once you finally find it. And after all that, it may be useless! With The Beverly Hills Organizer's Home Organizing Bible, you can quickly turn to the section they need, and then follow organizing ace Linda Koopersmith's decluttering "recipe" step by step, just like a cookbook. Everything you'll need is there on one spread! Linda's practical strategies and smart storage systems help you clear out the clutter and stay organized for good.
• Packed with organizational tips and techniques that are easy, inexpensive, obtainable and simple to maintain •Recommends the best products for each task • Includes do-it-yourself tips that could save readers thousands of dollars • Reveals the "30-Second Rule" that makes staying uncluttered and organized a snap • Based on the author's experience with thousands of clients
Testimonial:
"...I recently bought Linda Koopersmith's book, The Beverly Hills Organizer's Home Organizing Bible. She recommends just doing one drawer at a time. I started with my previously jumbled underwear drawer. This is the miraculous, easy-to-maintain, much-more-compact result (my bras are on the other side of the drawer, when they were previously heaped on top of the dresser). I'm thrilled!" ----- Posted by K
---
Jewelry Organizers by Dial Industries
Linda has launched her first line of storage and organization products with Dial Industries. The velvet jewelry organizers offer consumers an affordable, luxurious way to display their favorite jewelry pieces. When looking to organizational products for her makeovers, she saw a void on the shelves. When I looked down the aisles for jewelry storage there wasn't anything great out there; it was pricey for what you got and nothing worked well. "(My line with Dial) is something that's luxurious and beautiful; a lot of storage looks great inside a drawer but not so pretty outside, and some people don't have the drawer space," Koopersmith said. The jewelry organizers feature a black velvet lining, designed so consumers can openly display their necklaces, bracelets, watches and cufflinks on a nightstand or on top of a dresser. The line has functional benefits over traditional jewelry baoxes, in that the consumer doesn't have to rummage through jewelry to get to the piece they want, and the design prevents necklace chains from getting tangled. The pieces are displayed upright on the tiered organizers, or laid out flat on trays for full view. The jewelry organizer line is highlighted by black velvet lining, covering wood and plastic. It is available open stock in single tier, two tier, and three tier, as well as a half and full trays.
Products Recommended by Linda: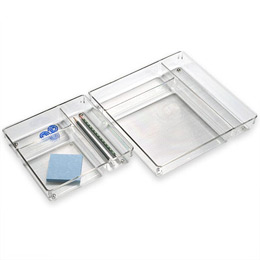 Linus Small 3-Section Drawer Organizer
Price: $9.99
Size - 9" sq. x 2" h. Beautifully crafted from Resipreme plastic, these drawer organizers offer a generous capacity for storing kitchen utensils and gadgets, toiletries and cosmetics, craft and hobby supplies, or jewelry and accessories. They coordinate beautifully with our Deep Drawer Organizers.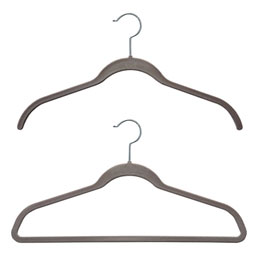 Huggable Suit Hangers~ Platinum
Price: $9.99
Size - Pkg/10. Our Huggable Hangers include a non-slip velvety finish that prevents clothing from slipping off the hanger and protects delicate garments. With a slim, compact profile that helps to conserve precious space in your closet, these lightweight hangers are strong enough to hold winter coats.||Space-saving 1/4" profile | Non-slip flocked finish | Chrome-plated hooks | Ergonomically designed ends preserve garment shape